$10 Indian Head Gold Eagle
Artistic and U.S. coinage were two words that hardly ever appeared in the same sentence. It was an image President Theodore Roosevelt was determined to change with his sweeping coinage design legislation. One of the first examples produced from this change was the $10 Indian Head Gold Eagle designed by Augustus Saint-Gaudens and produced from 1907 to 1933. It would end up being the last gold Indian head coin ever to be produced by the United States Mint, making it a popular, but rare piece among both investors and collectors.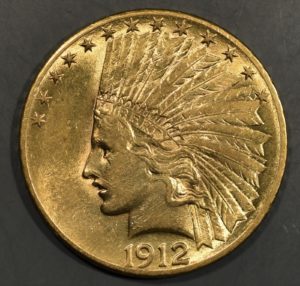 The design for the $10 Indian Gold Eagle coin was a departure from its predecessors and was considered quite revolutionary for its time. Unlike previous coins, which portray a Native American in his traditional headdress, this one features Lady Liberty donning the feathered war bonnet. In addition to the changes in its front imagery, this would be the first of the Indian eagle coins to utilize a raised design instead of its original "sunken" or recessed design.
Despite the radical alteration to the front of the coin, the reverse side has remained consistent with the original design. It portrays the bald eagle in profile, perched on a bundle of arrows that have been entwined with an olive branch. It also still displays the phrases "In God We Trust" and "E Pluribus Unum" to the left and right of the eagle respectively.
The coin edge is one of the more interesting features of the design. Most U.S. coins have an edge that is smooth and lettered, but the Indian Head coin featured 46 raised stars (48 stars beginning in 1912) that represented the number of states in the union at that time.