$20 St. Gaudens Double Eagle
Gold coins signify opulence, and with good reason. Gold is perhaps one of the most easily recognized precious metals. Long before the age of credit cards or even paper currency, it was gold that symbolized wealth
In the early 1900's, President Theodore Roosevelt inquired of sculptor Augustus Saint-Gaudens as to whether or not he would be interested in re-crafting the design or the nation's coinage to look more like the coins of ancient Greece, where democracy first took root. What Saint Gaudens created was a breathtaking high relief design featuring the image of Miss Liberty on one side and a flying eagle on the other. This coin symbolized both the county's strength while moving into the future and independence as a powerful and glorious nation.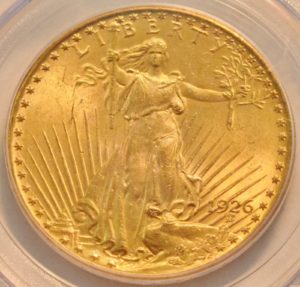 This strikingly beautiful coin will offer the same features as the original, but in a high relief format and modified to suit the correct times, including adding four stars to represent all 50 states, and the "In God We Trust" inscription, which was omitted from the 1907 version. The Coin is a true symbol of greatness. This gold coin's history is a commentary on the spirit of America.
Only a few proofs were struck, and then production began of the $20 gold coins. Because of the high relief, these coins were not the favorite of bankers (they wobbled when being stacked). Eventually, the coin was altered to be flatter. Even though all of the Double Eagle gold coins are considered collector's items, those struck in high relief are more highly prized.
Interestingly, this incredible symbol of America was, for a time, produced without the motto "In God We Trust." Roosevelt felt that it was sacrilegious to have that motto on coins that could be used for gambling. The Saint Gaudens Double Eagle gold coin is indeed a symbol of greatness. A symbol of artistry, independence, strength and even the workings of our government, this gold coin has a history that spans a century and beauty that is unmatched.
Saint Gaudens Double Eagle Gold Coins represent great collectable and investment opportunity as they increase in price on average about 8% a year.
The 2009 Ultra High relief coin might look the same as it did back in 1907, but it is indeed much better quality, and the design has been digitally enhanced to increase the aesthetic appeal of the coin. Also, you can find lettering around the rim of the coin, which is the common coin phrase "E Pluribus Unum" to be exact.
If you're looking for a collectible that will stand out amongst all your coins, this is definitely the one to consider. They are sold directly from the U.S. Mint as well as by authorized purchasers and dealers around the world. The coin is a $20 denominational coin but is apparently tied to the price of gold, so its cost is much higher. That makes this coin not only a historically significant investment but also a valuable one to add to your collection.