Barber Half Dollar (1892-1915)
The Barber Half Dollar started with a contest. As the young United States cemented its identity, the US Mint looked for new designs for silver coinage to reflect the character of the fledgling nation. From the onset of this search for a new design, Chief Engraver Charles E. Barber wanted to assist in creating this new coinage but Mint Director James Kimball had other plans. Mr. Kimball wanted a new design for silver coins and he devised a plan to achieve this goal that did not include relying on Barber. His plan was to run a contest among revered artists to design the new coins, but that proved to be more complex than he anticipated. By 1890, Kimball's plan went into effect and the Treasury went forward with the contest but there were more hiccups to come. The original contest idea was not successful due to the Treasury's refusal to meet the demands of the elite artists and so a new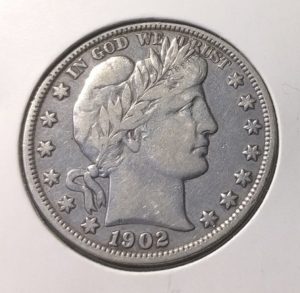 campaign was launched. The second contest was open to anyone instead of just revered artists and they received a great deal of entries. Unfortunately none of the entries from the more inclusive contest were good enough for the silver coins and so nothing came of either contest.
After these efforts proved unsuccessful, the Treasury went back to the drawing board. Finally in 1892 a new half dollar coin was introduced after the Treasury decided that they should turn to Barber after all. Chief Engraver Barber created designs for three denominations of silver currency including the silver half dollar, now known to most as the Barber Half Dollar and his mark can be found on the face of the coin in the shape of a B, near Liberty's neck. The new coin leaned heavily on the old imagery of the woman representing Liberty on its face but with some key adjustments. This new Barber Half Dollar face bore a Liberty figure wearing a cap over her hair, a wreath on her hairline and the word "Liberty" above her brow. As mandated by the 1865 legislation the phrase "In God We Trust" is also present on the face of the coin. The Barber half dollar also has thirteen stars and the date listed underneath Liberty's portrait. On the reverse side of the coin, a large eagle with a shield is displayed. The eagle is depicted holding an olive branch and arrows in opposite talons. The back of the coin also reads "United States of America" and "E PLURIBUS UNUM" and thirteen stars are displayed above the image of the eagle.
This new Barber half dollar was produced from 1892 until 1915 and was fairly popular. The Barber Silver Half Dollar is often collected among modern hobbyists. Collectors should be mindful of certain areas on the coin when grading it. The first signs of wear in this coin typically show on Liberty's cheek and hair on the coin's face as well as the eagle's wingtips and the tips of the eagle's tail.