Classic Head $2.50 Gold Quarter Eagle (1834-1839)
In the 1830's, there was a serious crisis with America's gold coin circulation. A short while after US Congress established an official ratio for bimetallic coins at ratio of 15:1 silver to gold, the price of gold steadily raised all over the world. As a result, speculators would buy up American coins and export them to the European nations, netting huge profits. These coins were often melted down in Europe to increase the wealth and spending power of the purchasers.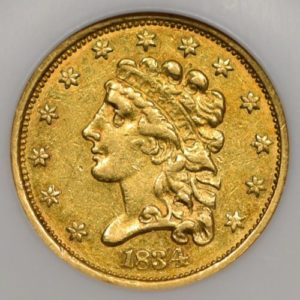 Congress continued to debate this issue and try to find a solution to it for over four years. Eventually a decision was struck in 1834 to reintroduce a gold coin into the American currency exchange. William Kneass was now tasked with creating a new design for the upcoming gold coin. On a short deadline, Kneass ultimately decided to use the previous designs from John Reich's Classic Head and gold coin engravings.
Kneass used Reich's design of a Lady Liberty wearing a headband tied around her flowing hair. The headband was inscribed with the word 'LIBERTY' and was surrounded by thirteen stars, with the date below it. On the reverse side of the coin there is the classic image of an eagle perched an olive branch and grasping three arrows. The eagle on the reverse side was surrounded by the phrase 'UNITED STATES OF AMERICA' and the denomination.
There are many Classic Head Quarter Eagles that have survived, but few of them are in the highest quality use on account of their immediate and lasting heavy circulation. Two years where you might be more likely to find an exceptionally high quality Classic Head are 1834 and 1836. Additionally, there are some years for this series that are quite rare, particularly 1835 and 1837, when there were few mintings of the Classic Head. Finding an uncirculated version of these coins is one of the more difficult challenges, but can be rewarded quite lucratively due to their sheer rarity. Very few collectors have been able to put together a complete set of this series and most don't attempt to do so on account of the extreme difficulty associated with the task.
Overall, the Classic Head is a charming and familiar coin that can also fetch some very high values depending on the date and other factors. As a result, many collectors find the series attractive and try to collect at least some of the mintings that they find particularly interesting or otherwise valuable. While this isn't necessarily the most popular or dazzling of the coin series out there, it still represents a very significant time in American history and does it with a quality design and craft. Experienced and dedicated collectors would find it difficult to not even spare a passing interest in tracking down some of these editions to add to their collection. And they would be in good company, as many other collectors are often drawn like a magnet to this series.