Early Quarter Eagles – Draped Bust, Capped Bust, and Capped Head Gold $2.50 Quarter Eagles (1796-1834)
The 1796 Draped Bust was the first quarter eagle and was designed by Chief Engraver Robert Scot. It depicts a figure of Lady Liberty wearing a cap with the inscription of 'LIBERTY' above and the date below. On the reverse side of the coin is the traditional American eagle surrounded by stars and 'UNITED STATES OF AMERICA' engraved around it. As was typical with these earlier Quarter Eagles, the thirteen stars were placed on the reverse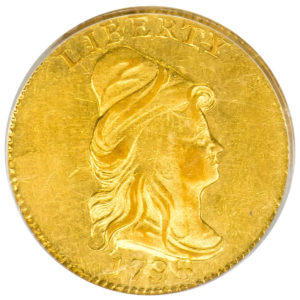 side rather than the obverse.
A highly rare coin, it can be extraordinarily difficult to find quality (or even any) variations of the Draped Bust. Even the "common" coins are still quite rare and pose a challenge to collectors. The best bet for collectors seeking a high quality coin from this series are 1807 editions, which are widely seen to be the most frequently appearing of the Draped Bust Quarter Eagles.
In 1808, John Reich redid the design for the Capped Bust Quarter Eagle so that it could be produced properly. On it, there is a left-facing Liberty wearing a cap with the word 'LIBERTY' inscribed on it.  The reverse side of the coin show an eagle with its wings spread and perched triumphantly. The Latin phrase 'E PLURIBUS UNUM' is displayed above the eagle and surrounding it are the words 'UNITED STATES OF AMERICA' and the denomination.. The borders of the coin are noted for being particularly and uncharacteristically weak.
The Capped Bust Quarter Eagle is extremely rare due to only being produced in one year and only having 2710 strikings. In all grades, it's estimated that fewer than 50 of the Capped Bust coins have survived. While it is more common to find survivors of highly circulated grades, there have also been several coins that were of a higher quality. In any case, the sheer rarity of this coin makes it a very attractive addition for any collector and it remains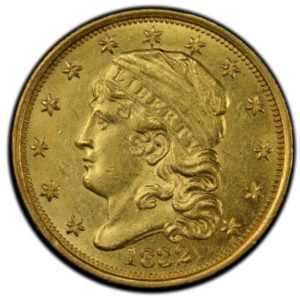 one of the most widely desired American coins.
The 1821 Capped Head Quarter Eagle displayed an older and more sophisticated Liberty wearing a unique cap. Surrounding Liberty were thirteen stars and below her was the date. On the reverse was an eagle with outstretched wings and the three inscriptions: 'E PLURIBUS UNUM', 'UNITED STATES OF AMERICA', and the denomination.
The Capped Head Quarter Eagle can be noted for its incredible rarity. No issues are particularly common, but 1825, 1829, 1830, and 1831 issues are the ones most commonly found to be of a higher quality by collectors. It's more common to find higher grades in the latter issues than the earlier editions of the series. In any case, a great deal of the mintages have disappeared and finding a Capped Head in any grade is a particularly noteworthy phenomenon. While grading these coins can be difficult, there are a few key indicators to use such as Liberty's forehead and cap, as these tend to display the most wear.