Flying Eagle Cent (1856-1858)
The large cent design produced since 1793 was not only unpopular, it was also expensive to produce. This was known since the early 1850s, but the last large cent coin with Braided Hair design lasted until 1857. But a replacement, the Flying Eagle cent, was already created in 1856, designed by Chief Engraver James B. Longacre and circulated in 1857 and 1858.
---
History of the Flying Eagle Cent
Mint Director James R. Snowden wanted to put a stop to the use of foreign coins for commerce in the US. He was afforded such a chance with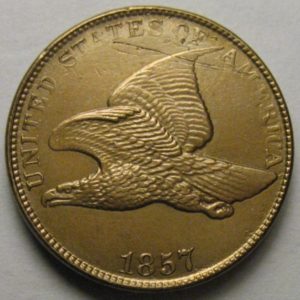 Congress' passing of a coinage law on February 21, 1857.
The law abolished the half cent and asked new cents to contain 88% copper and 12% nickel. It also contained a provision for redeeming Spanish colonial coins for the new cents. When the new one-cent coin was released on May 25, 1857, many went to the Mint building to have their old coins converted.
Snowden got his wish, and many cents were produced. But the coin didn't strike well and only enjoyed a one-year run. It was replaced in 1859 by the Indian Head cent, another Longacre design.
---
Design of the Flying Eagle Cent
Longacre adapted earlier designs for the Flying Eagle cent. The flying eagle itself was used by Gobrecht in previous coins, while the wreath in the reverse was from Longacre's own design for 1854 one and three-dollar gold coins.
A trouble with Longacre's designs was that the relief was too high, causing problems on coins that were fully struck since they can't be stacked properly. Problems also arose with coins that were not struck perfectly, with one being die position. For example, 1857 Flying Eagle cents featured an ill-defined wreath on the reverse.
Although it didn't strike well, the new one-cent piece was hugely popular. Even the pattern piece created in 1856 – production was estimated around 800 to 1,500 pieces – proved to be popular. Proofs and business strikes of the 1856 Flying Eagle Cent were made, with many hoarding the coins.
---
Collecting the Flying Eagle Cent
There are five issues of the Flying Eagle Cent coin: 1856, 1857, 1858 Small Letters, 1858 Large Letters, and 1858/7. Some collectors just stick with the 1857 Flying Eagle Cents or any of the two 1858 Flying Eagle cents.
Flying Eagle Cent proofs are rare, with the exception of the version produced in 1856. There is an estimated less than 100 existing proofs of the coins produced from 1857 and 1858.
Another problem arises when collecting Flying Eagle Cent pieces: they are widely counterfeited. Fakes have been spotted with alterations done to dates. Coins with false dies have been produced as well. Since fakes are prevalent, it's always best to have the authenticity of the coin verified by an expert.
Longacre's design for the Flying Eagle one-cent coin was a cause for its early death. A new design was clearly needed, and his new redesign for the small cent featured an Indian Head, which was released in 1859.