Morgan Silver Dollar
There is no other United states silver coin can compare with the rich history enjoyed by the Morgan silver dollar. Morgan silver dollar was designed by George T. Morgan, and it remains a favorite of both casual and serious coin collectors.
A total of five U. S. Mints were involved in the production of Morgan silver dollars from 1878 through 1921 are Carson City; Denver (1921 only); New Orleans; Philadelphia; and San Francisco.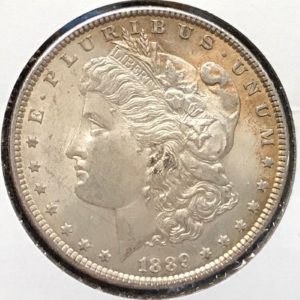 Minting of the Morgan dollar was suspended in 1904 due to a government shortage of silver bullion. Only about 8,812,000 were produced that year. It was another 17 years before another Morgan silver dollar was minted. In 1921, production resumed, but later that year the Morgan dollar was replaced by the Peace silver dollar.
The Morgan silver dollar features the head of Lady Liberty on the obverse side and a spread-winged eagle on the reverse. Several small variations were made to this coin over its mint life. The mintmark is toward the bottom on the reverse side
Morgan silver dollars are 90% silver and 10% copper. Uncirculated Morgans contain .7734 Troy ounces of pure silver (24 grams) with a gross weight of .859 Troy ounces (26.73 grams). Circulated Morgans are considered to contain .7650 Troy ounces of pure silver due to the "wear factor" in handling these coins (sometimes referred to as trade content). Circulated silver coins (including Morgan silver dollars) have been given the unworthy name "junk" silver.
Availability – When the US mint came out with the quarter states series in 1998 it unleashed a flood of collectors in the market by some estimates now there are more than 150,000,000-coin collectors, even though over 500,000,000 Morgan Dollars were minted over 320,000,000 were melted for their silver during the world wars and by silver profiteers.
Scarcity – By some estimates, there are only 17% of the original silver dollars remaining that means there is simply not enough Morgan dollars left for every collector to own even one let alone the entire country.
Hoarding – With the economic uncertainty for the last few years many people have been adding silver and gold as a way of having security for their families, as many people have seen their paper profits go up in smoke, and banks failing left and right.
If you are looking for the least expensive way of owning Morgan silver dollars and still get good coins, stay with the circulated grades of Extremely Fine (EF or XF) or About Uncirculated (AU). Uncirculated coins begin with Mint State 60 (MS60) and go to top-of-the-line MS65s. Use caution when investing in MS63 and higher grades – they should be graded and "slabbed" by either NGC or PCGS.