Three Dollar Gold $3 (1854-1889)
The Gadsden Purchase of 1853, unbeknowingly to all involved, set the scene for the Three Dollar Gold $3 of 1854. Due to its expanding borders and increasingly spread-out and sophisticated trading system, there was a demand for a universal and standard rate for US postage stamps. Congress ultimately made this demand a reality in 1854. As a result of this new system, the US government decided to create a three dollar gold coin in order to speed up and stimulate purchases of 3 cent postage stamps.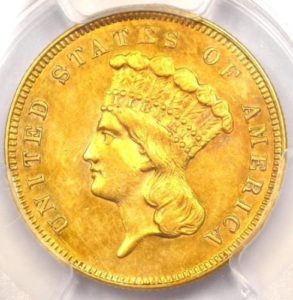 For the main figure of the coin, then Chief Engraver James Longacre decided to depict an "Indian Princess" whose visage was actually inspired by a Greco-Roman statue. This artwork depicts Lady Liberty wearing headdress which displays the word 'LIBERTY'. The engraved phrase surrounding her is 'UNITED STATES OF AMERICA'. On the reverse side of the coin is a wreath of many varying plants. The wreath is surrounded by two inscriptions, one showing the denomination and the other the date. The 1854 minting of the coin displays a much smaller inscription of the denomination.
The rarity of this particular coin depends a great deal on the year and other factors. It wouldn't be unreasonable to call the entire series of the coin, from its inception in 1854 to its end in 1889 'rare', on account of the very low quantity of high-grade surviving coins. Some years are particularly more common for the Three Dollar Gold coin than others, particularly the years 1878, 1879, 1888, 1854, 1889, and 1874. Some of the rarest dates for this coin, on the other hand, include 1858, 1865, and any other version of the coin made before 1859.
That said, there remains a great deal of difference between the conditions of many of these coins. A collector will want to make very sure that, if they are searching strictly for rarity, to keep within the bounds of the rarer dates and to look only for the higher-grade versions rather than those subject to significant wear. Only then can they guarantee their collection of Three Dollar Gold coins is of the high quality and value that they'd prefer it as. In any case, a collector who does manage to find versions of this coin that meet the above criteria is extremely fortunate, as high quality coins of a rare year are exceptionally difficult to find.
The reasoning for the low quality of high-quality coins from this series is simple. It was very common for quite some time after this series was discontinued for people to use them as jewelry or romantic tokens for their partners. As a result, they often undergo a great deal of wear and improper use, leading to a deteriorated condition. This was more frequent than not for some versions of this coin, which is a strong contributing factor in the sheer difficulty of hunting down a high quality variation of this coin. With all of this in mind, it's no surprise that the Three Dollar Gold coin series is so highly coveted among many collectors.