Trade Dollars (1873-1885)
Trade Dollars remind us of a time when the Country faced a strange dilemma after the civil war. Although large amounts of silver were being produced in the mines, the Government were only able to use limited quantities. After the hoarding during the war, Mint Officials worried that the public would start hoarding an influx of new silver coins, too.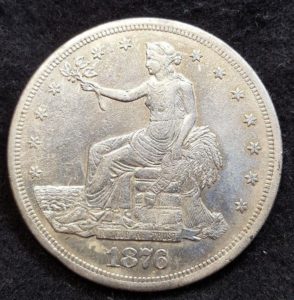 Although the miners were able to find an outlet for the silver from the mines during the 1860's, the foreign markets became inundated, leaving the miners struggling to get their silver sold and also seeing the price declining steadily. In 1871 and 1872, silver dollar mintages were to soar above one million, due to the fact that miners were depositing their silver with the Mint, converting them into silver coins. This was due to a long-standing law which miners from benefited from in the face of a crisis.
Congress soon put a stop to this and closed the loophole, with the Coinage Act of 1873, and suspended further production. This is when Trade dollar was born, providing an outlet for the metal sourced by miners.
Reminiscent of a standard silver dollar, the Trade dollar boasts roughly the same weight and diameter as the Seated Liberty Doller; the Trade dollar's predecessor. The portrait engraved on the front is similar, with the familiar female figure, seated, representing Liberty. And naturalistic eagle on the other side, this time designed by William Barber, the Mint Chief Engraver.
Over 27 million Trade dollars made it overseas, destined for Asian commerce despite the fact that the Chinese had recognized that the Mexican coin had higher fineness, containing more silver than the Trade dollar.
With the Trade dollar been despised at home and shunned abroad too, it quickly faded seemingly off the face of the earth. Production was suspended in 1878, leaving a meager amount of five to ten proofs been produced in 1884-1885.
During the coins lifespan, less than 36 million Trade Dollars were struck, this including around 11,000 proofs.
Proofs seem to prove the most in-demand coin for the collectors, with them being extremely rare; almost non-existent. Collectors strive to fully complete proof runs due to the stunning beauty of the original proofs of the State Doller. (not including the virtually impossible to attain 1884 and 1885.) Collectors search for Trade dollars in great condition, checking for wear on Liberty's ear, breast, knee, the Eagles head, and the Eagles left wing.